St. Marylebone Grammar School
248 Marylebone Road, was on the corner of Marylebone Road and Lisson Grove. The road junction was furnished with traffic lights which had pneumatic sensors. These sensors were excavated for maintenance using very noisy pneumatic drills at least once per term during my time at the school. The front section of the school buildings was a beautiful red brick, Victorian, mock gothic structure fronted by enormous plane trees. The newer section was a more business-like dirty yellow clay brick six storey building surrounding an internal courtyard and playground. Boys entered by the side entrance in Lisson Grove under the watchful eye of the Sergeant who closed the gates promptly at 08h50. Any boy arriving late would have to enter by the front entrance and have his name recorded by the Headmaster's Secretary.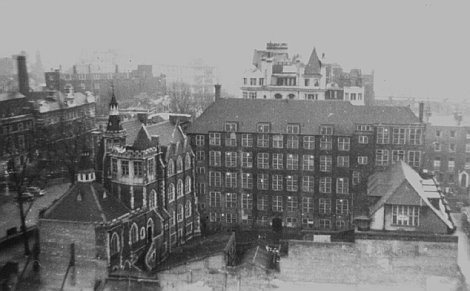 photo David Ball

The newer section of the school buildings appears to have been replaced by a residential hotel. while the older section initially became an office block but was sold to Abercorn school, a private school group in May 2002 for £3.3 Million. St. Marylebone Grammar School was founded in 1797 and known as the Philological School until 1901. It was closed for political reasons in 1981. I was abroad when the school was closed down but there are snippets of information around the Web such as the excellent address to the National Association of Grammar Schools by Michael C. Beloff QC. The Westminster City Council Archives are listed as holding Minutes of Governors' meetings, 1926-81; Lists of boys, 1827-1901, 1931-69; Minutes, 1797-1910; Accounts, 1841-1910; School photographs, 1875-1910; School magazines, 1931-1973. The funds realised when the School was closed down now endow the Philological Foundation.
School Camp
Boys went every summer for a week under canvas at the school's own camping ground at Forest Green near Dorking in Surrey.
1954 School Photo
A copy of the 1954 school photo has been scanned by Keith Vigon who has kept it in his posession since that date. I can just recall this photo being taken as I was astonished at the jerry-built scaffold of benches and tables upon which we clambered and sat for the occasion. This was set out at a constant radius from the rotating camera before we were allowed back into the courtyard. It is shown on this site in three pieces each of less than 200 kilobytes. Click on the piece that you wish to view at full size first. You may have to scroll the image horizontally. I have set it up to be as interactive as possible. Just click on any person of interest to see if we have any data available or if you can offer information. I find that I have a better memory for names than faces. Who for instance can identify Bernstein,Blech,Green,Lawson,Lingard,Pitt,Ryder,Taylor N.R,Watson or Wise?
Rugby Teams
There is also a group photo of the school 2nd XV in December 1953 and one of the school 1st. XV in December 1962.
Official Form Photos
I have several of the formal group form photos that old boys from different years have sent me. I am always interested in receiving more and will add them here as they are an excellent way of collecting memories that can be shared.
1955
This is a group photo of the Form 2 boys in 1955.
These are the Form4A boys with Mr. Horwood.
1956
There is also a group photo of the Upper sixth science form in about 1955 or 1956.
This is the 1956 Under 15 Cricket Team
This is a group photo of the Form 2.H in 1956.
This is a group photo of the 1956 Form 3 with Dr.Derry.
Mr Hartshorne is the form master in this array of boys 4g in 1956.
1957
This is a group photo of the Form 3.2 in 1957.
This is a group photo of the Form 4 boys in September 1957 with, I believe Mr. Manning. Please correct me if I am wrong.
1958
This is a group photo of the Form 4 science in 1958.
1955ers Reunion.
This is a group photo of the Reunion of the '55ers in July 2010 at the Harcourt Arms.
Old Philologians
The old boys association for the Saint Marylebone Grammar School still exists and is going strongly with over 450 members. They now have an active web site
The Treasurer and Membership Secretary is currently

Omar Harmon Esq.
Hon. Treasurer and Membership Secretary,
Old Philologians,
Omar Harmon Esq.
65 Ockendon Road
London N1 3NL


Tel: 020 72265721
Email: admin@kandara.co.uk

There is also a very active group consisting of those old Philologians who first joined the school in 1961. Their group is known as the Old Philologians of 61. Many of these younger chaps have their email addresses listed on the commercial friendsreunited website.

There is also a potentially very good free site at Alumni.NET. It is North American and refers to pupils as students or (horrors) alumni.
I signed up for this site. This took me at least half an hour, partly because their return email disappeared into my spambouncer black hole but also because they require an inordinate amount of personal information. They do use a script to enable viewers to make initial contact which is a very good thing as it keeps subscribers' email addresses off the open Internet. They had 44 of our old boys listed on 23rd March 2003.

Email me with any information that you may have. My personal stuff is on a separate page with a couple of photos.
---
Boys
I have received about Old Boys is now on a separate page. Anyone may view this information.
---
Masters
An amazing collection of opinions about and memories of our former Masters continues to be sent in by old boys from all over the world.
---
Auxiliary Staff
Some notes about the Staff by David Ball.