David and Camilla Taylor's slow bicycle ride through the Baltic lands
Three Days in Hiumaa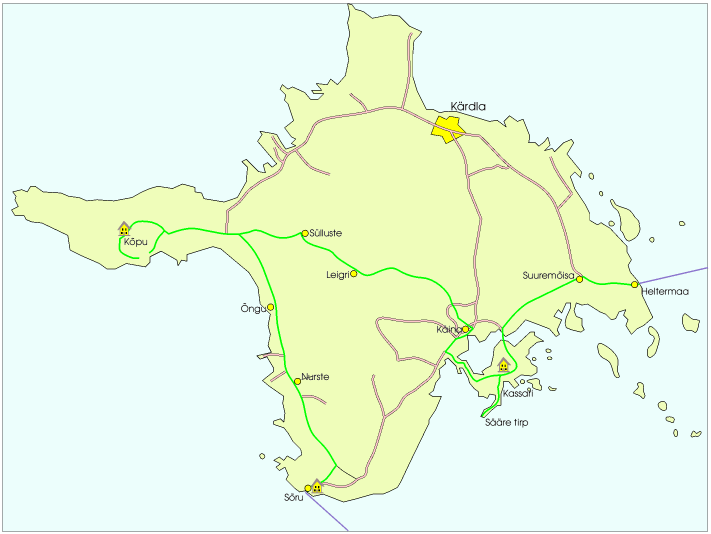 Sunday 10th August from Kuus tuba Leisi to Sõru camping house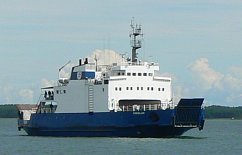 Today was as planned a rest day. Made own breakfast. A shower of rain during the night but bikes safely in the garage. Brought bikes out abt. 10h00 and loaded up after resewing seam of leather tool satchell. Owner has a huge vege patch - potatoes recently lifted, fruit trees and bushes with a glass greenhouse for tomatoes, capsicum and cucumber. We spoke to two vegetarian cyclists from Bielefeld who were waiting for the ferry. They were well equipped with waterproof maps from world mapping project and guidebook. We copied down the suggested route from Padise to Tallinn. The small open vehicle ferry departed at 13h30 for the 65 minute crossing to Hiumaa. Bikes were stacked by the bollards stbd. side aft clear of cars. Two finnish lady cycle tourers were also on the ferry and eager to disembark before the cars (est. ages 65 and 75). On arrival at Sõru we found that a local foot race was just finishing. There was a crowd applauding. Red faced followers-up were staggering down the road as we rode out of the harbour. One km. along the road we found our prebooked accomodation
Monday 11th August from Sõru camping house to Kõpu - Pihla talu
This morning there was torrential rain at 08h00, low cloud and we were full of gloom. It was obviously a front passing through and it cleared up for us to leave by 09h00 without raincoats. The road to the northwest, bitumen between high trees most of the way was like travelling on the underground because nothing but trees can be seen for most of the time and then one emerges at a village station Külama, Sinima, Nurste. At Nurste we stopped and bought groceries. There were three cars stopped at the shop and five bicycles. Two rough looking men came out of the shop and rode away on bikes. We overtook them a short time later and I was amazed to see that the rear wheel bearings in one of the bikes were so bad that the wheel which was not even warped wobbled from one side of the rear stays to the other. The rider did not seem to be concerned and when we stopped to pick raspberries they passed us again and had ridden at least five km. from the shop. In Australia you could pick up a far better bike than that from the rubbish dump. That is real poverty!
We eventually made it to Kõpu and having ridden right through to the other side without seeing any noticeable settlement we returned to find Pihla talu which turned out to be excellent. After settling in we walked over the farm to have a look at the berry bushes. They have rows of blackcurrants, redcurrants, raspberries and blackberries plus a few gooseberries. They produce their own jam which is very good. We bought a couple of jars despite the weight on the bikes and they lasted us for the rest of our trip. They also have a little old post windmill on the property and I was interested in their firewood arrangements.
I popped out on an unsuccessful 13km ride to find the way to the beach. I had to be back for the evening meal so time was limited. The track was unsigned and although gravel was clearly a bus route.
Tuesday 12th August from Pihla talu to Kassare
After a lovely breakfast and a hot shower we departed at 09h05 on a fine day with low fairweather cumulus. We rode back on the fairly quiet highway 12km. We took a photo of No Overtaking signs

that are obviously required here when the road surface is obscured by snow or ice. At Puski we turned left onto a 21km gravel road in well maintained condition. There was no problem travelling in strips free of loose stones at 12 to 14kph. Stopped at midday nr Sülluste for half hour lunch in a field off the road next to a large round hay bale then continued on and right into Käina. Käina which seems to consist of a police station, bank, filling station and shop all combined in one small building is bypassed to the north by the main east/west road in the south of the island. We were rewarded on the way out by the sight of 500 metres of apple trees growing at the roadside. The fruit is ripe but not sweet. There appears to have been no attempt at pruning the trees which could be 40 yrs. old. The crop is enormous but the apples are no larger than golf balls.
Riding on to Kassari we passed a lovely little yacht harbour at Orjaku, beautifully sheltered with new club houses and wintering shed. The area is surrounded by very expensive new houses in immaculate grounds surrounded new stone walls. We checked into Keldrimae Guest House and unloaded. Immediately we explored the road directly opposite the guesthouse leading 4.5 km. down to Saare Tirp, a gravel spit on the south of the island. We were able to ride the bikes at least 1500 metres further towards the spit than someone having to park a car. After returning we put lights on the bikes and rode 1 km. to the local pub for an evening meal just as it was starting to rain. The homemade beer was fairly ordinary then we cycled back in the rain with the lights flashing.