Pihla Tourist Farm
Where
South of the barely visible village of Kõpu in the northwestern corner of Hiumaa.
Price
We booked by email early in the year. We paid 640 EEK ($74 australian) for our room and breakfast and another 160 EEK ($19 australian) for a really excellent evening meal of fried fish and boiled potatoes.
Character
There are two or more older wooden two storey buildings in among pine trees. The rooms are plain but quite satisfactory.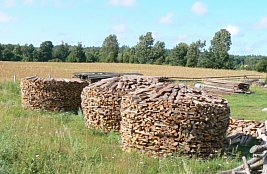 Firewood stacks at Pihla Talu
Verdict
Very good. Strongly recommended.
Contacts