Donnelly Drive
Now excluding motor vehicles
For many years the forestry roads starting from Graphite road two kilometres to the west of One Tree Bridge to the now closed Donnelly Mill have been maintained as a tourist route of some 15 kilometres of well graded gravel track running parallel to the Donnelly river. It is a lovely quiet road and although fairly hilly is in my opinion a nicer ride than the Mundabiddi trail which also connects the start and finish. You could of course leave your motor transport either in the carpark at One Tree bridge or at the Donnelly mill café and ride one route each way for a total of about 35 kilometres.
The news is that Donnelly drive is marked as closed from the Gregory road crossing to about 6 km. south of Donnelly mill. The drive crosses the river 5 times using very old wooden bridges. They have not been maintained and although they would still be capable of carrying light traffic I suppose that CALM (The Department of Conservation and Land Management) is concerned about Public Liability. The bridges have been barricaded with large logs and tank trap excavations. This is no barrier to bicycle or foot traffic. The absence of motor traffic is now a bonus for cyclists although I previously never encountered more that three vehicles on any occasion that I rode that way.
Donnelly drive is still signposted from Graphite road to Donnelly Mill. The motorist will only encounter the road closed sign on reaching Gregory road some two km. later. There is very little water in the Donnelly this year. It even runs dry in some places (December 2015). You can ride Donnelly drive without mountain bike tyres but you would be safer dismounting for the steeper bits either up or down.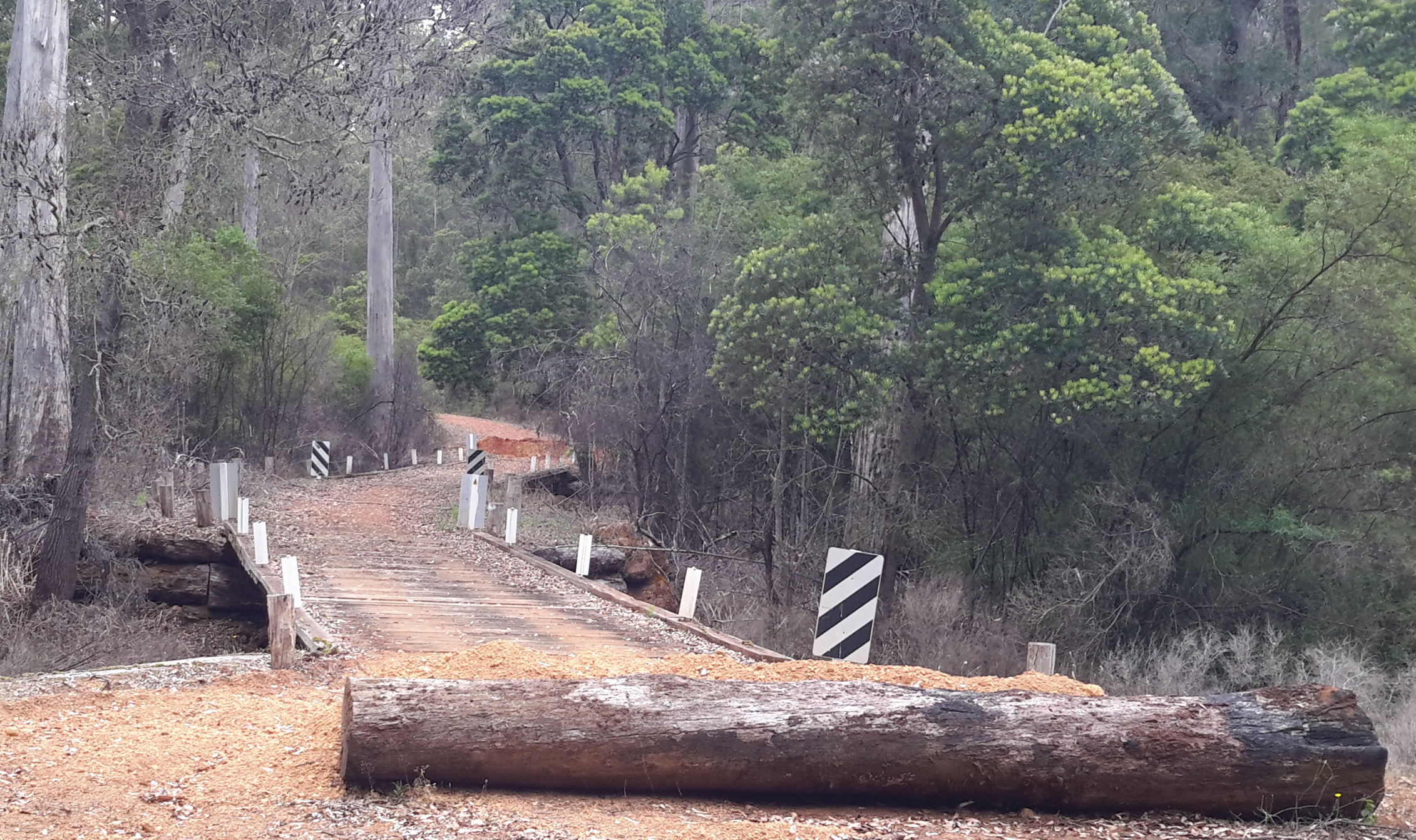 Obstructions for motor cars but not cyclists or walkers