Broke Inlet - five day camping tour
There were just the two of us on this tour, Lukas Badeja, a 17 year old German exchange student and myself, David Taylor 74 year old Manjimup resident. It was not intended to be easy. It was in the nature of a reconnaisance and at the same time a demonstration of our lovely countryside to an overseas guest.
Manjimup to Lake Muir
Friday 25th November 2011 There were bush fires at Margaret river. The sky in the west had been lit up all night and the sun rose an orange ball through the smoky sky. High clouds were passing rapidly from north to south and low clouds were passing from the southwest to the northeast so it looked as though the weather was about to become cooler. The air was still on the ground in the early morning and the firefighters expected to bring the fires under control today.
We departed at 07h00. There was fairly quiet traffic on the Muir highway which is still very narrow near Manjimup. We moved onto the gravel shoulder to allow two loaded timber jinkers to overtake and they gave us a toot but after Nyamup the road is now much wider. At our third hourly break 56.3 km. from home and on the left marked only by a ←WATER sign about 1500M past the Tone river bridge we found a lovely wide pool in the river for a swim. There is a cleared area here that would make a good camping spot or a support trailer parking spot for a coffee break. It is only 100M from the highway but quite out of sight. I had a lovely skinny dip. We passed Thompson road where we go tomorrow at 64 km. from home. At 65 km. we stopped at the lookout over the lake. There is a 200M galvanised steel pier over the mudflats that can be cycled with panniers. There is nothing to look at really but mud although with field glasses you can just see water in the distance.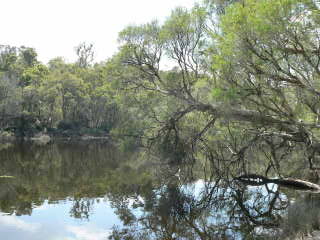 Pool in the Tone river at 56.3km.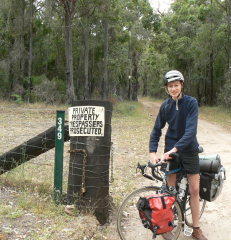 Gate into the pine plantation
At 70km. we turned off the highway onto Nabagup road. I wrongly thought that the east side of the lake was all nature reserve but at 3,500M from the road we came to a gate into a pine plantation with a NO ENTRY sign. Ignoring this we passed the gate and rode to the right around the plantation for 700 Metres. We then unloaded the bikes and scrambled down a steep granite slope to a beautiful camping spot on the lake beach for the rest of the day and the night. It was only 12h30 but we were both a bit tired. The water is salty and only 300mm. deep as far as we were willing to paddle. We can see flocks of water birds in the distance. The bottom is slightly squidgy mud with a superficial layer of fine gravel. Waterweed on which the wildfowl are obviously feeding is prolific. The rocky slopes down to the shore are lichen-covered ancient granite that appears to have been undisturbed for thousands of years. You can see where slabs have been spalled off by weathering over an enormous period but still lie where they have separated.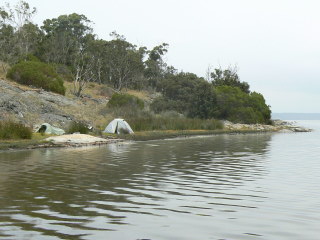 Lake Muir Camping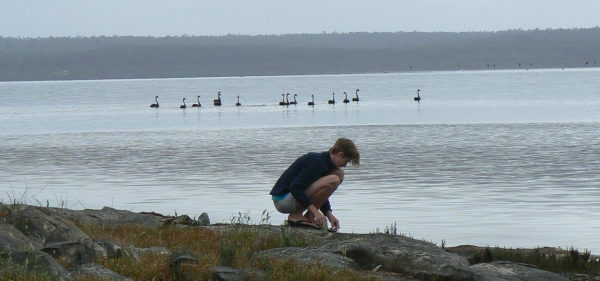 Lake Muir black swans
I sat in a natural armchair among the sun-warmed rock above the tents and watched dusk creep over the lake but did not see evening flights of wild fowl that I expected. A flock of several hundred black swans was visible with the field glasses but they seemed quite content where they were.
Lake Muir to Fernhook Falls
Saturday 26th November 2011 We made a 07h30 start after carrying bikes and bags separately up to the top of the rocky slope. There was a a 20 minute period of drizzle as we were starting, with cool cloudy southwesterly weather. At 8.7 km we turned left onto Thompson road where it started to drizzle again. This eased as soon as I had my rain jacket on but continued spitting on and off for the next hour or so. The flies were still bothersome but less so than yesterday. Thompson road had recently been graded without a water cart so there were hardly any corrugations but windrows of loose gravel were a nuisance and quite alarming when going downhill at any speed. There are many hills as the road cuts across the country in a straight line. On the stretch down the west side of Lake Muir we saw cattle properties and Great Southern's plantations screening the road from the lake with no obvious access to the shore. We clearly saw in passing Granite Peak on the left but otherwise the road was through uninterrupted lovely forest, not so tall as the coastal forest. Traffic was moderate, eight cars in five hours. We had to push up several hills that proved too steep for our heavy loads . Beardmore road where we turned right for the final 12km. to Fernhook Falls is clearly marked. It was well into the afternoon when we arrived with 69km on the clock and very tired. Five and a half hours is too long for a 75 yr. old. Never again! There were a few mosquitos at Fernhook. Long sleeved shirt, long trousers and closed cycle shoes took care of that.
I had my usual skinny dip at the beautiful Rowlands Pool below the falls where the D.E.C. has made a lovely set of steps down to the water with a causeway and sealed path to the camp site. The water is tea-coloured from all the bogs upstream. There is an excellent camp kitchen with a good rainwater tank. It was a cold night.
Fernhook Falls to Broke Inlet
Sunday 27th November 2011 I turned Lukas out of bed at 05h30 for breakfast then found time for a quick swim. The western side of the pool was covered in a layer of apparent soap suds but it was probably natural. After I returned and left the pool it was possible to see my track persisting in the suds. We departed at 07h50 expecting a short ride today. As we had plenty of time we planned to see some different country by riding Deep River road that runs parallel to, and 2 km. east of the highway then to cross by Hill road to the Main SW highway before taking Broke Inlet road to our destination. That turned out to be an adventure. The first bit on Ordnance road was very good and to anyone following us I recommend taking Ordnance road all the way to the main road and to avoid the way we went. It is then only 4km to Broke Inlet road. Total from the Deep road turnoff to Broke Inlet road one would expect is about 25 minutes. Our version took two and a half hours!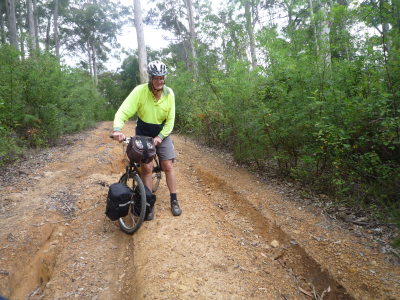 Deep River road:Descending on foot
Hill road:This is just the start!
Deep road runs alongside the Deep river. You cannot see the river from the road. The road is a continuous series of short steep hills - up and down - up and down. Many of them require pushing up and there were signs that many horse riders use this route. We saw several of them with their horse floats in the Fernhook Falls camp.There are badly eroded gullies in many of the descents where it is advisable to dismount from the bike and walk. After some six km. of this we eventually reached Hill road and were horrified to see that it appeared to have only recently been cleared of vegetation although it is shown on my ten year old map. To start with it did not appear to be possible to cycle it. We decided to give it a go as we thought " Only 2km. to the highway. We can push that far at 4km/hr in less time than it would take us to go on and around and anyway the road will probably improve. Perhaps it will be better when we reach higher ground out of this swamp." It did not improve. It became worse! Whatever machine had done the clearing, probably a big wheeled loader had left deep ruts along which we tried to push the bikes. In very boggy places the bike panniers were catching on the sides of the ruts and we had to lift the bikes out onto the rough ground at the side. The character of the road did not change much and we rode no more than 150 of the 2,500 metres to the road. The rest we pushed. At the 2km. mark we met another obstacle. We had to cross a small river. This took about half an hour. We took off all the bags. I waded across with the bags, hip deep in water and ankle deep in soft mud with unseen submerged logs to trip over. Lukas managed to carry the unloaded bikes over a precarious narrow fallen log hidden in the undergrowth across the bog hole. We eventually reached the highway with only 700 metres to go to Broke Inlet road.
Hill road:Inlet river crossing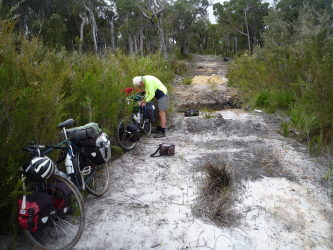 Hill road:Inlet river crossed
The 10 km. of Broke Inlet road was child's play in comparison. It is true that invisible sandy patches caused a number of dismounts and short pushes but that is cycle touring. Broke Inlet is beautiful. There are some rather derelict shacks along the waterfront in Camfield, the Manjimup Shire enclave within the National Park. We camped at the end of the row of shacks behind some trees 30 metres from the beach. We spoke to a young couple who had just driven Chesapeake road from Northcliff with their small four wheel drive. They gave the opinion that the road is suitable for cycling so there we go tomorrow.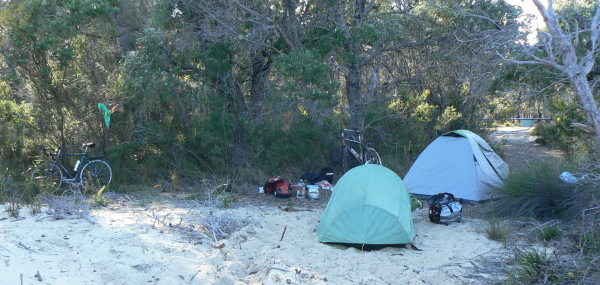 Broke Inlet:Camping
Broke Inlet:Beach
Broke Inlet to Northcliff
Monday 28th November 2011 It was with reluctance that we departed this morning from our campsite at Broke Inlet. It is an excellent place to stay despite the many empty, ugly shacks. The only people there apart from ourselves were in a group of about seven in one of the houses at the other end of the settlement. They had a four wheel drive, two outboard motor boats, one from a charter company with a professional skipper. They are making a film about " Executives in the Wilderness "or so they told me. Unfortunately we have insufficient food to stay any longer. Water would be no problem. All the huts have rain water tanks. We were on our bikes at 07h45.The first few kilometres of Chesapeake road parallel to the northeast side of the inlet are flat, show signs of flood damage but have recently been regraded without the aid of a water cart. There are hidden patches of sand to trap the unwary cyclist. After the first five kilometres there is a series of gentle hills but in many cases the surface is so loose that even granny gear does not suffice and we lost count of how many slopes that we had to push up. My arms tired of pushing so I resorted to pulling the saddle with my right arm trailing behind me and steering with the left. One problem with pushing in a soft patch is that the bike simply slides away sideways from you to the right.
Chesapeake road: Difficulty steering on soft surface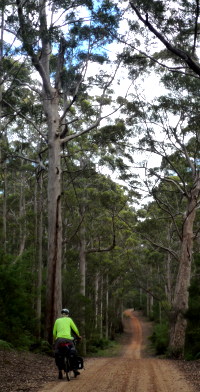 Chesapeake road: The way down to Gardner river
This road feels remote. We only saw two other vehicles on the road. The route runs straight through coastal rain forest and the surroundings are very natural. At 11h10 with 33km. behind us we came across the turn-off to the Gardner River road with an inviting Northcliff → sign. Furthermore on the Chesapeake straight on side there was an ominous sign " Four Wheel Drive Only, Difficult Conditions ". Of course we continued on the Chesapeake Road (Probably less hilly than Gardner River Road we thought.) For the next three km. the road condition downhill was even better than previously. We knew that the bridge would be closed. There is a deviation over a knee deep ford just too deep to cycle across without flooding the bottom bracket. We carried bikes and bags across separately in three trips each. The ford bottom is sharp gravel that is very uncomfortable to bare feet. The crossing is about 30 metres wide. Then we had a break for lunch.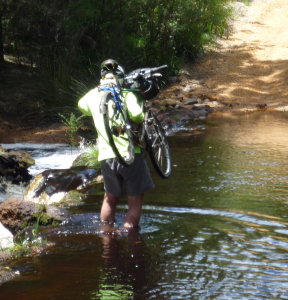 Chesapeake road:Gardner River crossing
Chesapeake road:Flies were a nuisance
The next fifteen kilometres to the Windy Harbour road were very hard work. We both became frequently bogged in the grey gravel which was like a mixture of hard, sharp edged 30mm. stone cubes and talcum powder. In places we were using granny gear on the level and proceeding at 7km/h. There was a fresh westerly headwind which had the advantage of blowing the flies away. These were gradually becoming more and more bothersome until 5km. before the Windy Harbour road I remember telling Lukas that these were the thickest swarms of flies that I had ever seen in Australia. He took a photo of thousands of black flies on my yellow shirt and when we reached camp my shirt was completely speckled with fly spots. By then the flies were almost gone. Arriving in Northcliff we bought provisions and checked into the Around TU IT camp at around 14h30 having ridden 60 km at an amazing average of 11km/h for the day despite all the pedestrian activity. I (85kg. on an 18kg. bike with 1.6in. by 26 in. tyres) became bogged more frequently than Lukas (61kg. on a 16kg. bike with 1.25 in. by 27 in. tyres). We were each carrying 3 litres of water and full camping gear.
Northcliff to Manjimup
Tuesday 29th November 2011 Before leaving Northcliff we found a telephone kiosk in order to phone home and let my wife know when we would be arriving. Lukas has a mobile phone but that had not served since shortly after leaving Manjimup and was still giving no service in Northcliff. We chose to return on the Wheatley Coast road and then Southwest Highway to Manjimup. Wheatley Coast road is very hilly but traverses really lovely country. There is usually very little traffic but at that time of day two or three large milk tankers passed us going about their daily business. Southwestern Highway is being rather unneccessarily widened at great expense over about ten kilometres between Eastbourne road and Channybearup road. We were stopped on two occasions where there was single lane traffic only and chatted with the traffic controllers. At Diamond Tree we stopped so Lukas could climb to the top and take photos. As we passed by Manjimup airfield we watched the Flying Doctor's Pilatus aircraft on final approach. This aircraft comes to Manjimup two or three times per week to ferry urgent patients for whom the local Warren Districts Hospital has inadequate facilities.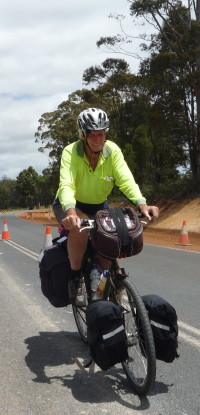 Cycling home past the roadworks
Flying Doctor flying in to Manjimup as we cycled past the airfield
We were glad to be home. We only covered 288 km in the five days but spent nearly 25 hours in the saddle or under way on foot pushing. I think that we have pioneered an interesting tour and found just what the limitations of the route are. The camping spots at Lake Muir and at Broke Inlet are not to be missed. If you want to try the route I suggest that you give Deep River road and Hill road a miss. Use Ordnance road and the Southwestern highway instead. Then use Gardner River road, the signed route to Northcliff rather than following Chesapeake road to the bitter end.