Nomme Korts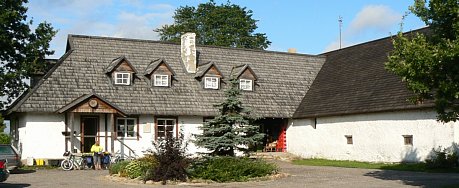 Where
6km north of Rapla on the Rapla Juuru road.
Price
We paid 480 EEK ($56 australian) for our room including breakfast in a very old room downstairs. Our evening meal with beer outside cost 310 EEK ($36 australian)
Character
It is a restored one hundred year old pub with exposed beams and a rather gloomy but interesting interior. We had a small but adequate room on the first floor with bathroom/toilet on the landing. There are large outdoor tables under umbrellas more to keep the rain off than the sun. The beer is very good. There is a small grape vine growing against the wall of the pub with very small ripe grapes with near zero sugar content. Several carloads of local families were eating and drinking outside when we arrived. We secured our bikes for the night in the garage next to the firewood stack.
Verdict
A good place to stay - recommended.
Contacts