Hotel Liva in Liepaja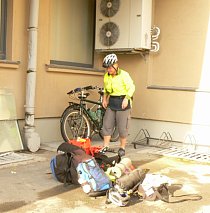 Where
This is a very large, quite posh hotel right in the centre of an unexpectedly big town. The river front is 100 metres away. Trams and other traffic passed beneath our window continuously throughout the night.
Price
Prebooked by email, we paid 36 Latai (=$87) for a small twin room (room 320 on the second floor) shower/toilet en-suite, with breakfast in the restaurant included.
Character
We were somewhat disturbed by the Saturday night revelry. Groups of six youths had booked rooms to watch football on television and drink beer. Our bikes were locked to a grating in the rear courtyard under partial shelter. We removed all baggage and our pumps for safety. The strong coffee, fresh bread and local berry jam for breakfast were wonderful.
Verdict
Safe, reliable and recommended.
Contacts