Kallaste Talu
Where
Some 4 km south of the village of Padise. Not signposted from the south but well signed from the north.
Price
We had not booked as we had received no response to multiple emails over a period of six months. We were lucky that we had not arrived a day later as the next day they had a capacity booking for 50 guests.
We paid 500EEK ($58 australian) for our room including breakfast. We asked about an evening meal and without hesitation we were told that we could have the same as the girls were having for a further 100EEK ($12 australian) for the two of us. It was a very tasty chicken stew.
Character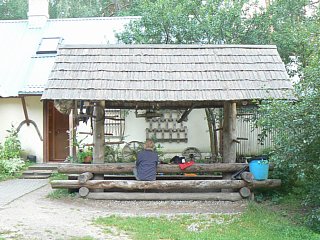 We shared the dining room for our evening meal with 18 blonde teenage girls with a gymnastic club group. They were supervised by 3 twenty year olds and all extremely well behaved and competent. Over tea outside we examined a beautifully built outdoor table with benches and a shingle roof built by the owner. The owner has a very productive vegie patch with broad beans, strawberries, super lettuce, rhubarb and rows of berry bushes, also a glasshouse with tomatoes and basil. He has in addition seven geese with a very clean pond and a flock of goats with their own goathouse.
Verdict
A good stay but not to be counted on without a booking.
Contacts