Endla Hostel Haapsalu
Where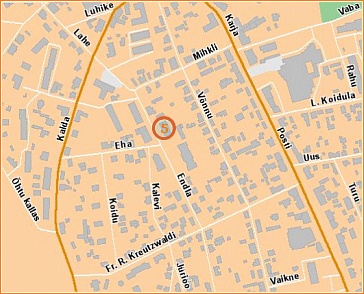 Price
We booked by email as early as January and reconfirmed before we set off. We paid 450EEK ($52 australian) for our room - no breakfast
Character
A substantial brick buiding with the main floor two metres above the ground approached up imposing front steps. The building stands in its own grounds off the street. The receptionist is present during office hours only and they expect to keep the front door locked at night although guests are given a key. There is a functional kitchen and a rather gloomy sitting room. We found shelter for our bikes for the night down a stairway leading to an abandoned basement door.
When we were packing up to leave we found that a young cyclist who had arrived at 22h00 the previous night after cycling directly from Tallinn had been unable to gain entry and had simply pitched his tent behind the garages.
Verdict
Well located - good sized room - perfectly adequate - good value RECOMMENDED.
Contacts