Holiday House Sniedzes
Where
2km of good gravel tracks west of highway P108 to Ventspils and 22km. north of Kuldiga. A detailed map is essential to find this place as there is no signposting to it. The cabin is about 1km. from the owner's house but seems to be still on his same property.
Price
We booked via email as early as January directly with the owner Dainis Ansons and his english-speaking daughters Uldis and Linda. We paid 30 latai ($72 australian) on arrival for the two of us and had the whole house to ourselves.
Character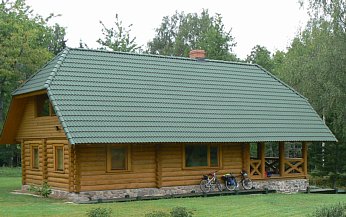 This is an absolutely superb log cabin barely four years old but built in traditional style. There are two twin bedrooms, a large living room and a kitchen. The bathroom and shower opens off one end of the kitchen and the wc. off the other regrettably with no separate ventilation. The plumbing fittings are all super modern with electronic on-off switches. There is double glazing all round and the interior of the house with the doors shut is immediately very snug. There is a tiled stove in one corner of the cabin but we certainly felt no need for it. The loft upstairs could sleep another half dozen guests sleeping on camping mattresses. This can be completely closed against the cold and has a little balcony overlooking the front verandah. The verandah which with my naval background I could not help but refer to it as "the messdeck" has beautiful solid timber tables and benches for 16 people.
A separate building associated with Sniedzes is the sauna, apparently a requirement for living in Latvia. We heard that the latvians hold sauna parties where they drink and sauna half the night. The obligatory pond with access staging is just next to the sauna. The water looked clean enough but the banks were very muddy. I am not a fan of saunas as they just remind me of my time spent in Her Majesty's vessels with little or no air conditioning in the Persian Gulf and the Red Sea.
Sniedzes stands on the site of a former farmhouse now demolished. An old derelict house 100 metres away is surrounded by 70 year old cherry trees festooned with moss. The season was finished as we were there but we still managed to find a few late cherries to eat. There were also red currant bushes nearby and some wild blackberries and raspberries which we picked and ate on the spot. A few very old apple trees bore tiny, ripe but bitter apples.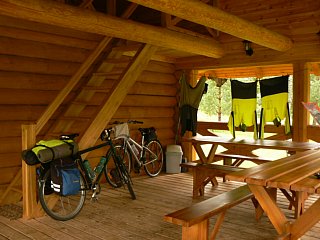 The messdeck
Verdict
This is quite the best place at which we stayed throughout our holiday. The host family was very welcoming and friendly. We very strongly recommend it.
Contacts