Guesthouse Papes Cakstes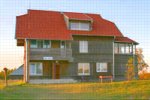 Where
The guesthouse is at the northern end of the very small village of Pape between a swampy, mosquito breeding nature reserve and the baltic shore which is about 200 metres away. The access is via a wide gravel road of 10 km from the bitumen highway. This rough gravel road seems to be a practice area for would-be motor rally drivers who race past in either direction every 40 seconds or so at speeds up to 120 kph. I suppose the road is regraded occasionally but at the time of our visit it was very seriously in need of maintenance. There was not a single way on the road anywhere to avoid the extremely bad corrugations.
Price
We paid in the end 92 Latai (=$221) for two nights with all meals in a double room. In the four weeks on our own this was the only accommodation that demanded payment with the booking. Efim Levin, the (Jewish) owner was not equipped to accept a credit card no. and the cost of making a bank transfer internationally is prohibitive. By paying the full amount in advance we were able to get him to knock off the cost of our transfer from the price but we had to pay his bank transfer fee immediately on arrival.
Character
The all wooden building is very run down. Shower and toilet on the landing. Window had to be shut at night against mosquitoes. The downstairs room operates as a small cafe/restaurant. There is a wooden deck outside with very pleasant outdoor tables and benches beneath umbrellas. Bikes were locked in the garage.
Verdict
Not really recommended. The access is quite unsuitable for bicycles. There is a new guesthouse just constructed attached to the camping ground across the road. If you do stay with Levin do not order all meals in advance - just as required.
Contacts